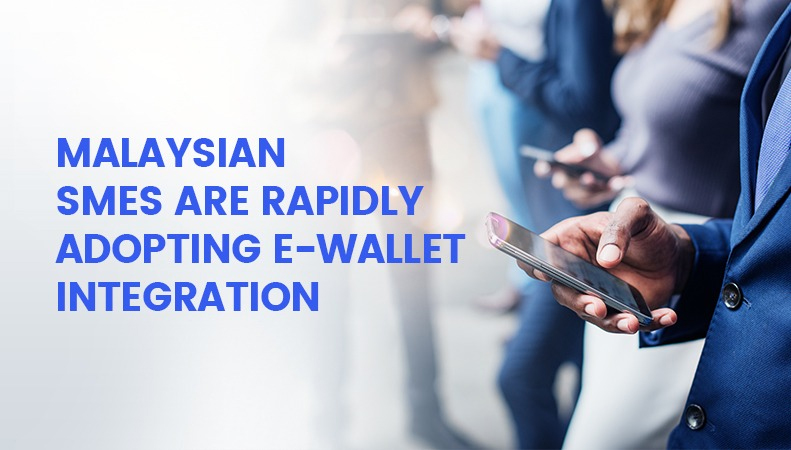 Malaysian SMEs are rapidly adopting e-wallet integration
30th June 2021
The use of cashless payment systems has reached a tipping point. This, according to the International Data Corporation (IDC), is due to Malaysia's rapid digital economy development, as well as consumer digital behaviour during the pandemic, which will pave the way for future growth of digital payments. Unsurprisingly, IDC predicts that this year, a greater number of customers will adopt cashless payment methods for the first time.
According to an academician at Universiti Malaysia Sabah, the adoption of local and global e-wallet digital payments by Malaysia's small and medium-sized enterprises (SMEs) will boost the sector's competitiveness both domestically and internationally (UMS). The use of an e-wallet could improve the growth of Malaysia's digital economy by directly increasing the contribution of SMEs to the country's income. It also signifies the growth of fintech in Malaysia.
Touch 'n Go eWallet, Boost, and GrabPay was chosen as service providers by the government because of their large number of active users and comprehensive merchant networks, technological skills, and financial and manpower strength to develop the required systems, processes, and procedures, among other things. e-Tunai Rakyat would not cause privacy or personal data breaches, according to Suzillah, because it uses the same implementation process as the Cost of Living Aid (BSH) and Haj subsidy to Malaysians.
Convenience for consumers
According to Darshiniy, retail behaviour is likely to intensify cashless payment patterns. Market accessibility and convenience can only increase as a result of the existing and increasing list of innovations (mobile payments, contactless cards, QR codes, peer-to-peer payments, and wearables). Retailers would be unable to predict whether pandemic-related consumer behaviour would be episodic or long-term in nature. And as foot traffic begins to pick up again, they will proceed to deploy new payment systems to be able to provide a variety of cashless payment options.
Malaysia has a low credit and debit card penetration, though in 2019 about 75% of these cards had near-field communication (NFC) capabilities. Additionally, we're seeing new developments in the market that enable smartphones to accept card payments through NFC technology, thereby displacing traditional POS (point-of-sale) terminals. It's critical to distinguish ePenjana from both long-term economic development and short-term economic stimulation. Finally, the ePenjana plan was implemented as a boost to domestic investment and to assist SMEs suffering from the pandemic's effects.
Sales reconciliation also becomes a lot harder
Meanwhile, revenue reconciliation is becoming more difficult for companies. A convergence is unavoidable at some stage. With a single QR code that is interoperable and accepts payments from participating banks and e-wallets, DuitNow QR aims to solve that issue. SMEs return to their day-to-day activities, ramping up as soon as they can to reintroduce physical business to their locations.
He's seeing SMEs scrambling all over again to use digital means to service their customers now that the conditional MCO is back in operation. Regardless, their digital spending has been restricted to either hardware purchases or none at all. However, as they agree that the pandemic will last for a long time, SMEs are shifting their focus to more digital channels.
Free social media sites are still the preferred engagement outlets, according to IDC, although many SMEs are trying to stay open and operate throughout the conditional MCO time. Eight out of ten SMEs claim the best way to stay afloat is to build their value chain with ancillary resources that will help them move to a wider outreach and keep their bottom line in the black month after month.
Employers are taking steps to ensure workers are linked and able to remain efficient during the prolonged pandemic situation in Malaysia, which is driving spending. Faster internet access and provisioning of devices to employees are also driving spending.
Privacy and Security
The right of an individual to individually access self-relevant information is referred to as privacy.
It is a crucial function that everybody recognizes. Privacy and protection, which are found to be more suggestive, are some of the factors that influence the use of an e-wallet. One of the problems that keep consumers away from buying products unless they are covered is a lack of protection and privacy. Payment via an e-wallet without security features, on the other hand, could result in unauthorized access to personal data and a lucrative opportunity for cybercriminals to breach the data. The e-wallet has grown in popularity as a result of its ease of use, but there is still a lack of knowledge and awareness among the general public, as well as a fear of making transactions due to security concerns. Customers may lack confidence in information system providers and will refuse to make any e-payment transactions unless privacy and security features are included. Customers with no prior experience in the field of technology may be concerned about security and privacy. Since customers who use smart technology for purchases are concerned about the rapid advancement of technology and its security concerns.
EVOLET is a digital wallet app for migrant workers.
Learn more at https://evolet.io/